Refinishing and Reglazing Frequently Asked Questions ...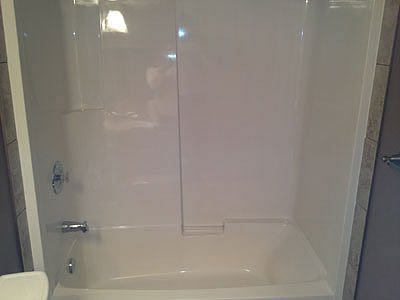 What is the Perma Shine Bath finish ?
Perma Shine uses the Shurbond ® Refinishing System which is the ultimate bathtub & tile refinishing products in the industry today. It is a proven system used in thousands of homes and commercial applications for many years. The Shurbond ® porcelain finish produces a tough thermal-bond that is extremely durable and hard, but at the same time very flexible around drains and caulk lines. This unique process is ideally suited for transforming bathtubs, sinks, wall and floor tiles, and shower stalls. The Shurbond ® finish is designed to restore worn porcelain, fiberglass, ceramic, plastic, pressed steel, cast iron, and vitreous china fixtures to " like new" condition.

How long does it take to refinish a bathtub or wall tiles ?
Typically four to five hours. All the work is done in the home with no harm to the surrounding areas and there is no mess to clean-up afterwards.

How long before the bathtub or wall tiles can be used afer the restoration process ?
You bathtubs, tiles, or acrylic/fiberglass shower can be used in 24 -36 hours.

How long will the finish last ?
With normal care the Shurbond ® finish will give you many years of use. Many customers have told us their restored bathtub, tiles, or acrylic/fiberglass shower have lasted 20 years. Follow our simple tub care guide and you will be assured of many years of satisfaction.

Why shouldn't I just buy a new bathtub or change my tiles ?
The cost of refinishing is considerably less than the cost of replacement. Not only that, the added cost of replacing plumbing fixtures, wall tiles, wallboard, pipes, tile floors, sub-flooring; all of which will be damaged during the removal of your bathtub. With the Perma Shine refinishing system you can reduce the cost of remodeling significantly !

Will my refinished bathroom fixture retain it's original shine ?
Yes ! because of special curing system the Shurbond ® finish will retain over 96 % of it's original shine, even years later !

Does the Shurbond ® slip guard protection become dirty looking like some factory finishes ?
Absolutely not ! Our non slip protection remains virtually invisible many years after it is applied !

Should I be concerned about the smell in the home while the technician is working ?
Not at all...we keep the odor to an absolute minimum. Often by the time we leave your home the Shurbond ® finish has dissipated almost entirely. Many people stay right at home while the work is done and notice little or no smell. The curing process begins as soon as the product is applied and with our quick set system your fixture is well on it's way to being set before we leave.

Are there any hidden costs when the work is finished?
No, never ! The quote we provide on the telephone or in person will be exactly what we charge. We will tell you up front what the job will cost and that is what you will pay.....nothing more !

Are Shurbond ® products in compliance with VOC regulations ?
VOC'S or volatile organic compounds are the solvents found in latex, oil, alkyd, and industrial coatings. Shurbond ® products are in full compliance with ( OTC ) Ozone Transport Commission regulations in the U.S.A. and on the leading edge of current regulations in Canada. Our products are safe to use and environmentally friendly !