Perma Shine Bath Refinishing Tub Care Tips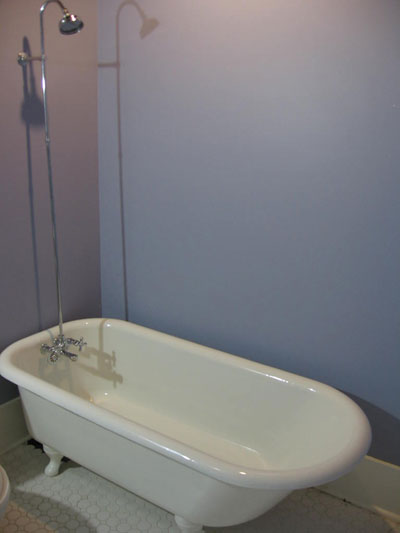 To maintain the beauty of your Tub surface:
1. As with a new Tub, remove excess water and wipe tub after each use.
2. Be sure faucets are tightly closed and shower pipe drained after each use.
3. DO NOT rest any soap bottles, spray cans or wet towels on the surface for long periods of time.
Cleaning:
1. Even though the Tub does not look dirty, it should be cleaned at least once a week with a liquid cleaner.
2. USE a liquid cleaner—Fantastic, Lysol Tub & Tile Cleaner, Liquid Ajax, Formula 409, or Dow Scrubbing Bubbles.
3. NEVER USE abrasive cleaners—such as Ajax or Comet on your Tub. Even soft Scrub is mildly abrasive.
Bathmats:
If you find your surface to be too slippery, use a special NON--SUCTION type mat.
DO NOT use conventional suction cup bathmats, stick-on type flowers or strips.
REMOVE NON-SUCTION BATH MAT AFTER EACH USE. DO NOT HANG MAT OVER THE TUB. ROLL MAT UP AND PUT IT AWAY.
Remember:
If you treat your new surface with respect, clean it regularly and keep your taps dry. Your fixtures will stay shiny and bright for many, many years.